From the signature
payment tracking
The solution for automating your document processes related to the management of your customers
Signing of contracts, capture of additional elements to the customer file, processing of invoices, filing of data, research and link with other documents in the customer cycle, management of shipments, payment control, disputes...
These tasks are time consuming for your company. Zeendoc allows you to drastically reduce the time spent on these operations.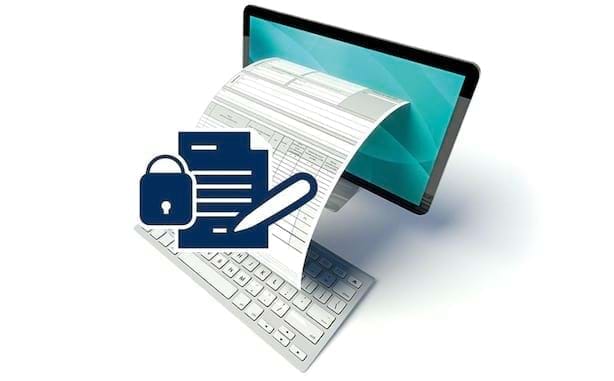 A DAILY ASSISTANT FOR YOUR SALES

Automatic capture and filing of your documents
Your commercial and financial services will save time. Once deposited in Zeendoc, the documents will be automatically classified by our tool, thanks to its recognition technology, without any other intervention from the user. The application will read and retain the entire content of the documents (thus allowing you to search for any word or phrase in your documents), the document is automatically classified according to the different criteria that you have determined.
Unique and shared document base
The same level of information, notably with the completeness of the files to verify the presence of all the documents in a file. Zeendoc is responsible for reconciling and creating a link between the elements that make up the same file(order form, BL, etc.). Your sales representatives, ADV, etc. all have access to the same information.
Backup and security
When deposited in Zeendoc, each document is time-stamped and archived to guarantee its authenticity and integrity. The document is duplicated in PDF/A format and preserved in its original version. The users access a copy of the document. Whatever actions they perform, the original stored within Zeendoc is not impacted.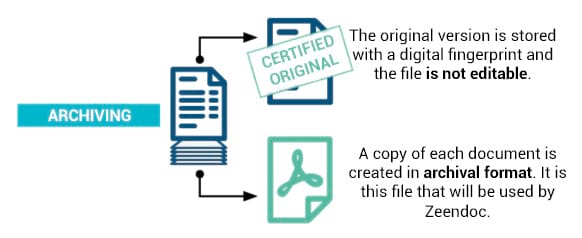 ACCELERATE BUSINESS
remotely
The electronic signature of commercial contracts
From Zeendoc, select the document and choose the sending mode, either simultaneously to all the recipients or in sequential mode. You determine the validity period of the document and send it. Each signatory receives the contract by email with a secure link.
After viewing the entire document and validating it, an authentication code is sent by SMS to the signatory's cell phone to guarantee his identity and electronically sign the document. Online monitoring of signature status (pending, signed or refused) by recipient allows you to be informed in real time of the progress of the file.
Once the contract is signed by all the recipients, it is automatically archived in Zeendoc.

The digital handwritten signature on a tablet or smartphone
"Easily sign digitally, wherever you are and whenever you want, unregulated documents such as delivery notes, repair orders. No more lost documents or time, the information is immediately transmitted to your company and allows for quick invoicing.


Documentary validation circuit
You can set up a circulation process that facilitates validation by the people involved. You can also comment on your documents and set up alerts or reminders to reduce processing times and speed up invoicing.
You keep control of your documents by managing the access rights or actions of your employees.

Remote access for your employees and contractors
Access in SAAS mode from a simple browser with no hardware or software to install or maintain.
Employees working from home or on the road can securely access company data 7 days a week.
You can manage your service providers' access to your cabinet and specify the documents accessible to each of them.
It is also possible to send documents by email through a secure link.
 PRODUCTIVITY OF YOUR FINANCIAL SERVICES
The customer invoice
Zeendoc allows the instantaneous distribution of all your invoices by automatically associating the related documents if necessary. No more typing or risk of error, the address of the recipients is automatically identified, e-mail or physical according to the sending mode associated with each customer.

The electronic invoice is a document created from a digital tool, sent and received in electronic format.
The legislation requires the company that receives an electronic invoice to accept it (Macron Law of August 6, 2015). If you choose to keep the customer invoice in paper format, the tool manages the transmission by post via a desktop publishing center.
If your company is a supplier to a public institution. Zeendoc simplifies your invoicing process thanks to the Chorus Pro connector. Manage the automation of the sending from a single interface.
In a few clicks, you instantly send all your invoices to the Chorus Pro portal. The status of your invoice will be automatically updated in Zeendoc as soon as a modification of its current status in Chorus Pro is made without having to connect to Chorus Pro.
Legal compliance: Zeendoc options
Is electronic invoicing a legal obligation or an opportunity to gain in efficiency and simplicity? A bit of both...
Zeendoc offers you 2 complete and regulatory solutions for the dematerialization of customer invoices and the respect of conservation deadlines.
How do I choose?
Do I have enough documentation to establish a reliable audit trail or do I need to use an electronic signature?


The Reliable Audit Trail
You are guaranteed to provide a "reliable audit trail", a legal prerequisite for dematerialization. When you deposit the invoice in Zeendoc, it will be dematerialized, classified and linked to all the documents that justify it. In one click, you can trace and justify the transaction (estimate, order form, delivery form, etc.). You thus create a chronological link of the invoicing process, a "reliable audit trail" that will give legal value to your electronic invoice sending.
By allocating a unique digital footprint to your invoice, by time-stamping each of the actions of filing and then sending the document electronically, Zeendoc guarantees its integrity and authenticity while generating a durable pdf/A version.
Electronic signature of customer invoices
Electronic invoices can be signed with an RGS** certificate before being sent to your customers and archived for 10 years in an electronic safe with probative value. You can send your dematerialized invoices via a secure access to your customers in full compliance, easily and quickly. With the use of an electronic signature, you are not required to set up controls to ensure an audit trail.
When filing and sending an electronic invoice, the Factur-x format is taken into account by Zeendoc. This mixed format is an invoice readable in PDF format, for a classic treatment by a user, and a structured XML file containing all the essential data allowing the information systems to proceed with an automated accounting reconciliation. This system will facilitate your international transactions by overcoming language barriers.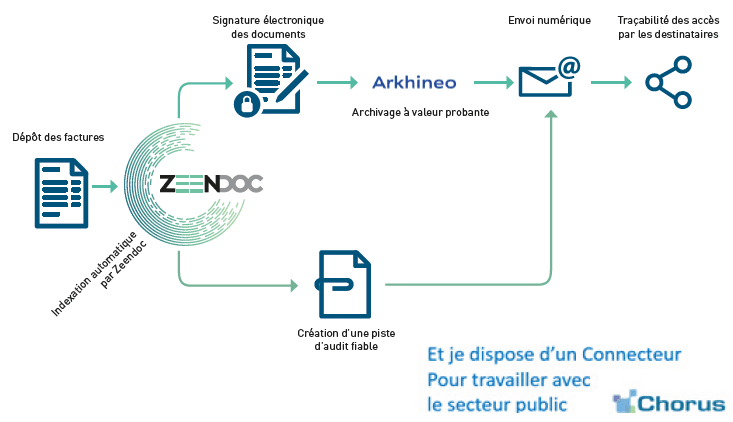 Customer history and follow-up
Secure transmission allows for optimal traceability of sending and consultation, as well as the ability to create alerts to monitor in real time the processing of invoices to be sent, not received or not consulted. In just a few clicks, you have instant visibility of your situation with your customer. Your exchanges and processing times with them improve thanks to Automated processing of your invoices. You reduce your risks of error or omission.
Collection and cash flow improvement
Dematerialization also leads to a faster processing of your customers, a follow-up of the payment and allows a reduction of the average time of payment of the invoices thus improving your treasury.
It also allows a significant gain in productivity. Accounting departments spend about a third of their time manually entering invoices.
The automation of the collection process allows you to anticipate with the automatic sending of pre-reminders a few days before the due date of the invoice, to adapt a reminder strategy according to the type of customer, to centralize customer information (invoices, messages, history...),
. The resolution of disputes is accelerated and, at the same time, the customer experience is improved
Gateway to your software: Import of accounting entries in your sales journals.
No more double entry, an automatic imputation is proposed according to your chart of accounts and the entries are exported to your accounting software, in the adapted format.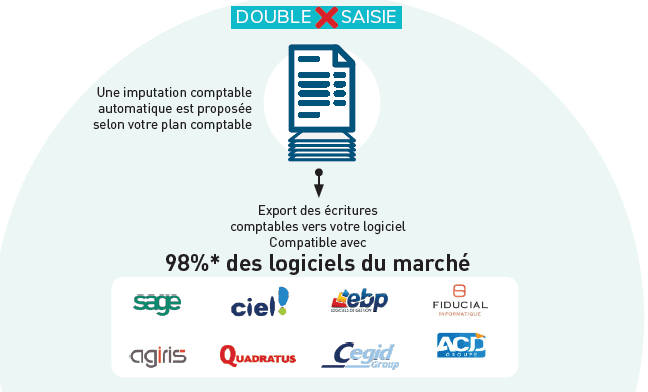 DECISION SUPPORT
Zeendoc archives all the documents of your organization. Once archived, the information contained in these documents is collected in order to help you make better decisions and create value.
The Excel export
The intelligent document reading system allows you to easily extract key data from your documents to use them in a summary table: evolution of orders, monthly reporting... You choose the information and trigger the creation of your dashboard.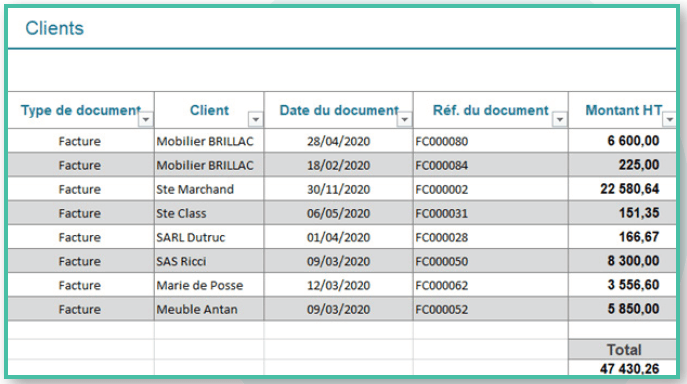 THE PRODUCTION OF GRAPHICS
Choose the comparison and value fields, as well as the type of graph you want. For financial reporting (e.g. invoicing by customer...) The results are displayed in the form of a graph.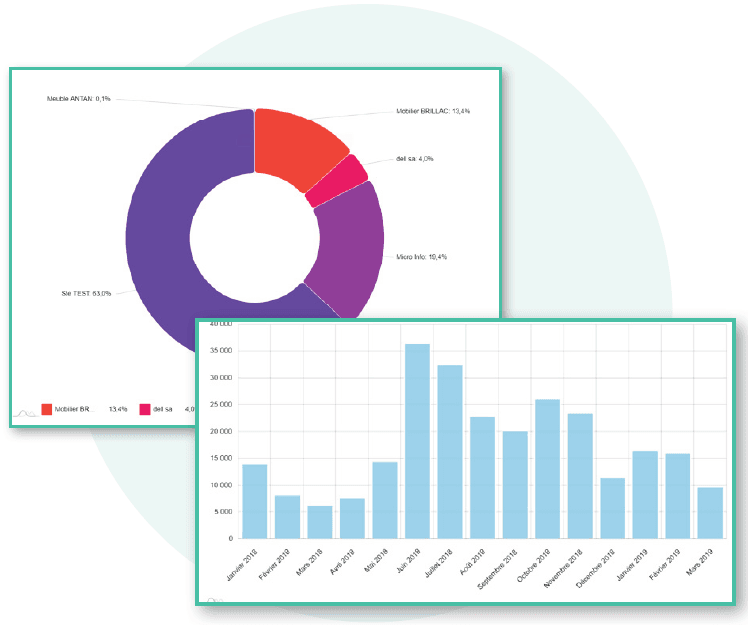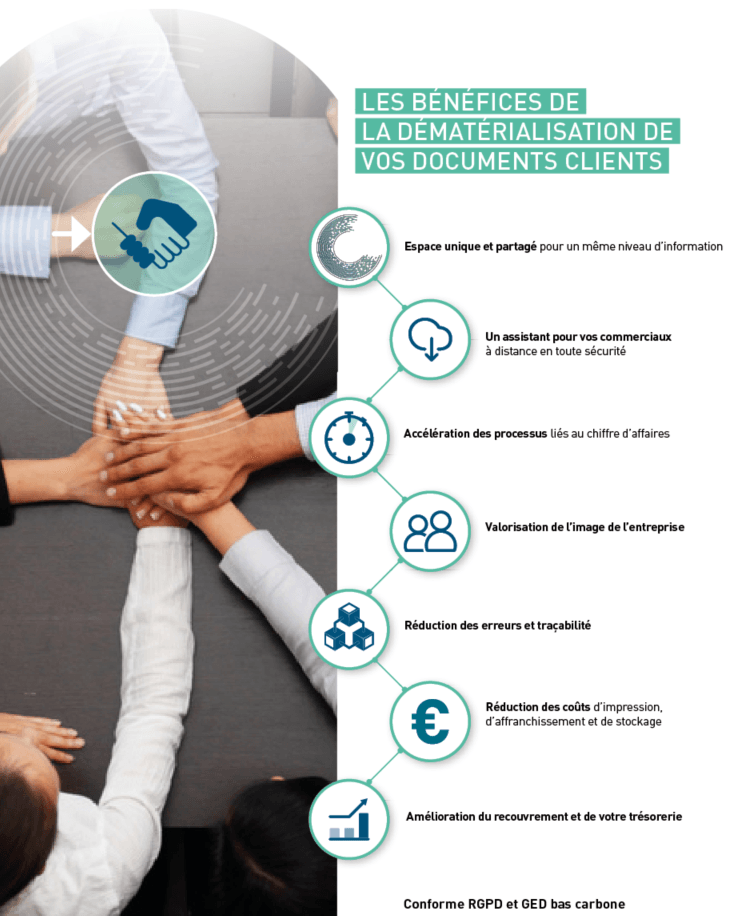 Get the most out of your business information!
Take advantage of the performance of Zeendoc, the ECM solution for VSEs/SMEs