AVAILABILITY, SECURITY AND PERENITY OF YOUR INFORMATION
Your document base includes sensitive information which, while meeting the needs of availability and mobility, must be totally secure and confidential.
This dual requirement is the reason for our archiving infrastructure, which combines the experience of our technical experts with the most advanced technologies to provide you with maximum guarantee and constant adaptation to the evolving world of SaaS.
CONTINUITY OF THE ZEENDOC SERVICE
Following the recent governmental declarations on possible power cuts during the next winter, we would like to inform you
that Zeendoc will not be more impacted this winter than the previous winters.
Our partner datacenters have already anticipated this type of event, which is not exceptional for them:
As throughout the year, generators take over in the event of a power cut: the system is tested every quarter and also once a year via a simulated power cut in order to verify its operation,

Acquisition and installation of additional tank allowing more autonomy,

Identification of fast delivery fuel suppliers.
You should know that maintaining the quality of service that is the strength of Sages Informatique and its flagship product Zeendoc is our raison d'être and that all our teams remain mobilized. and that all our teams remain mobilized.
A proven system architecture
Availability, confidentiality, integrity, traceability: Zeendoc ensures the durability of your information.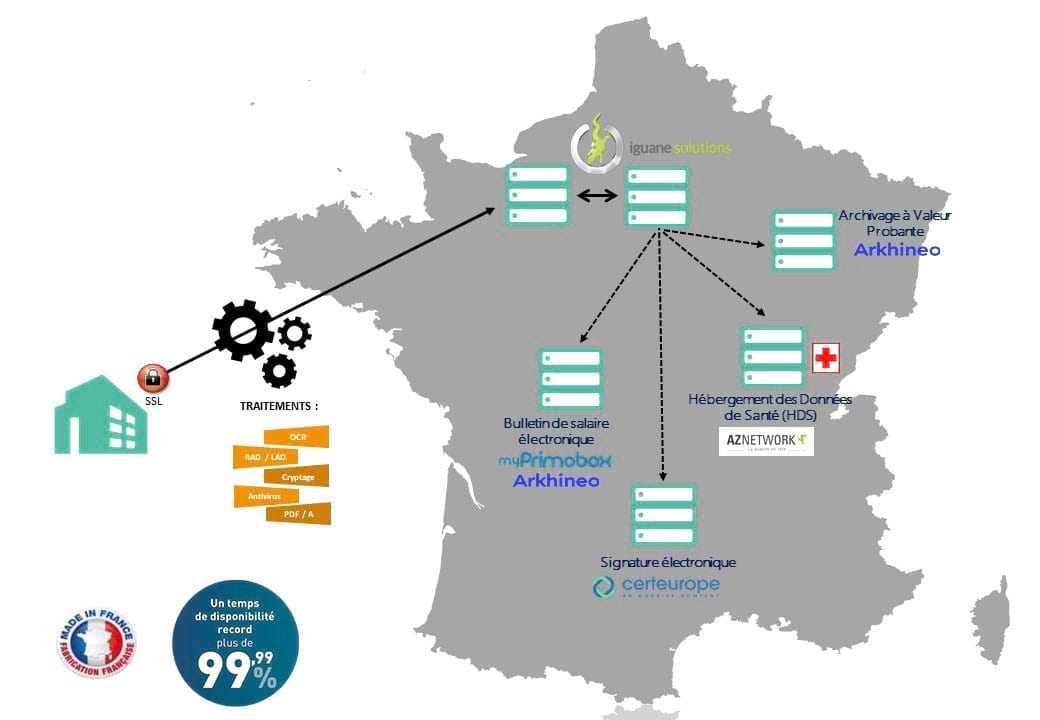 Don't lose any more documents
Availability
The Cloud is always based on equipment (servers, networks, storage) hosted in datacenters. And not all datacenters are equal. 
French hosting: Iguane Solutions, a 100% French and certified host, using French and secure servers running on green energy. A way to get away from the cloud act and keep your data in France.
A multi-site infrastructure To restore your services more quickly than by simply outsourcing your backups, the implementation of a multi-site infrastructure is necessary to compensate for the failure of a datacenter by avoiding any disruptions and by improving response times. 
Data stored in France and distributed in a redundant manner in real time on two physically distant datacenters, whose servers are dedicated to Zeendoc and synchronized. This allows us to guarantee an efficient and accelerated recovery of our services and of your activity (Business Continuity Plan/Business Recovery Plan) in the event of a critical incident or failure of our main datacenter.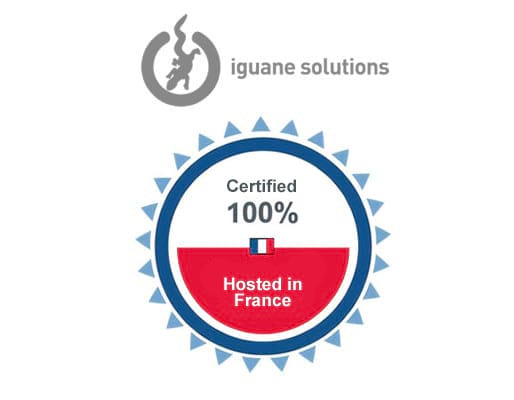 Green IT
The commitments of our main datacenter
A commitment to 100% clean, renewable energy

- to power our global data center platform, which currently stands at 92%.
Clean, renewable electricity

- 225 MW of wind power and 38 MW of fuel cell power on site
In France, we are 100% renewable energy

-Hydro origin certificate FR
Equinix offers renewable energy reporting based on the principles of the Greenhouse Gas Protocol, which allows our customers to measure the amount of greenhouse gases not emitted and the proportion of renewable energy consumption.
⇒ Read more at: https: //www.equinix.fr/data-centers/design/green-data-centers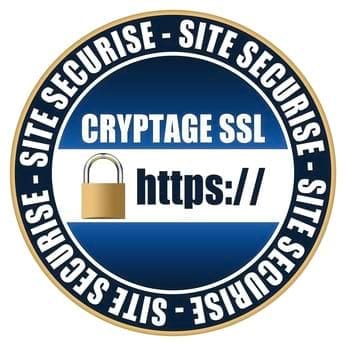 Privacy
Access and rights management: Secure access, a login and a password (imposed complexity) are necessary to connect to Zeendoc. If a malicious person tries to connect to another person's account, an email is automatically sent to the "attacked" person after three failed authentication attempts. After 3 unsuccessful attempts, the person has to wait between 15 and 30 seconds to be able to log in again. It will take 5 minutes after 3 additional attempts. Users with administrator rights can manage who can access their documents. In addition, within these folders, they can manage both the features to which these people have access and the documents to which they have access.
Data transfers under secure SSL channel: As soon as the connection is made, the communications between the user's computer and the Zeendoc servers are encrypted within an SSL tunnel. This tunnel is provided by the HTTPS protocol. This is exactly the same protocol and the same level of security as that used by banks to connect to their online account management interfaces.
AES encryption of stored documents (ISO/IEC 18033-3): Stored documents are encrypted with a client-specific key, using the AES protocol. The decryption key is itself encrypted with the user's password, so that only the holder of this password is able to decrypt the document.
Integrity
Use of the PDF/A format (perennial, standardized and autonomous PDF format): The deposited documents are converted in the format currently considered as the most perennial, the PDF/A format. The documents are also preserved in their original format within Zeendoc, so as to make it possible to recover the document in its initial format if necessary.
Integrity control before and after upload: At the time of upload, a fingerprint of the document is calculated using SHA3 control, then stored on a different medium. When consulting an archived document, users access a copy. Whatever actions they perform, the original stored within Zeendoc is not affected.
Regular integrity checks during storage: A regular integrity check is run on archived documents: the fingerprint of each document is recalculated and compared with the fingerprint the document had when it was upload. In the event of a loss of integrity, system administrators are immediately alerted, so that the error can be dealt with, and the file recovered from a backup if necessary.
WORM (Write Once Read Many)storage: This technology allows the writing of data but does not allow the modification or the deletion of a document. It is therefore possible to write once and read as many times as desired without ever being able to physically erase or modify the written data.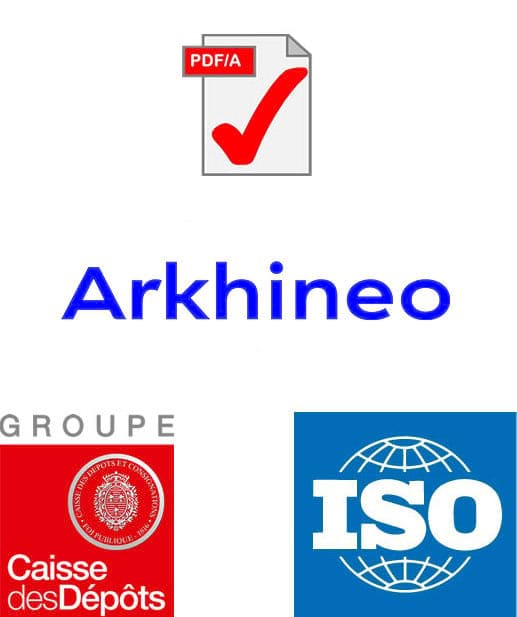 Traceability
Timestamp indicating the date and time of upload the document in Zeendoc.
System log: History of system events (authentication, modification, rights, etc.).
Document log: History of document events (upload, index modifications, downloads, consultation, etc.).
History by document, which allows you to consult the actions taken on the document since its upload.
BECAUSE TO ARCHIVE IS TO PROVE ,
DON'T LOSE ANY MORE DOCUMENTS !